About
Our Story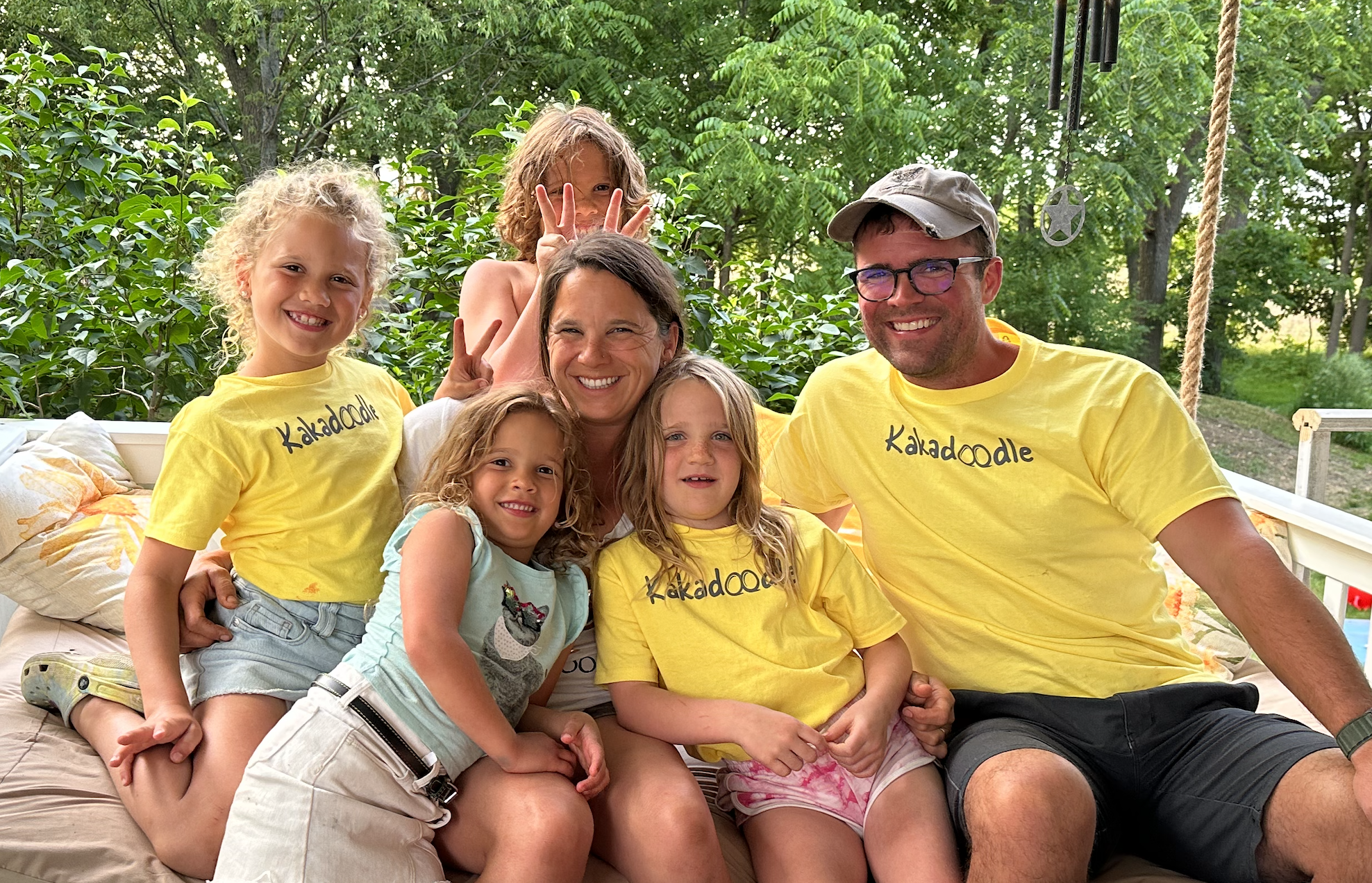 Just a few years ago, Kakadoodle founders Marty & MariKate Thomas were living in urban Chicago. They had no idea they would soon embark on a new (and very different) life journey.
Like many young parents, the arrival of their children inspired them to make choices with their kids in mind. And given that their first parenting decision of each day was "what's for breakfast?", Marty began to wonder about the food his kids were eating. One morning, he was cooking some eggs for the kids and he wondered: how are eggs so darn cheap? Something seemed off.
Marty and MariKate decided they would make one small, meaningful step - serve farm-fresh eggs to their kids. So they packed the kids in the minivan and drove out to the country in search of fresh eggs. But they had no idea how something seemingly simple would prove practically impossible. The farms they visited were not set up to help them. Returning home frustrated, Marty began to wonder: why is it so difficult to get farm-fresh food?
As fate would have it, that question would come into greater focus very soon, as one day Marty received a shock: he was diagnosed with Non-Hodgkin's lymphoma. His battle against cancer was ultimately successful, but along the way, he educated himself about the causes of cancer. What he learned brought him full circle: a lack of healthy, fresh food was a likely culprit. Marty knew he needed to make big changes in his life. So he left his software development career behind, bought a farm, and relocated the family to a rural community outside of Chicago. His first step was to solve his egg problem by producing his own eggs. The next step was to produce enough eggs to generate income. It was a trial by fire, but Marty put in the work to learn the gritty details of farming. But his sights were set higher still. Marty was on a mission to solve the bigger problem of making farm-fresh food easy for everyone to buy. With his software development skillset, Marty was able to create a robust e-commerce platform so people could not only buy his eggs but also subscribe to recurring orders. With that done, he approached other local farmers in his area and offered them access to direct-to-consumer sales through his platform. With other farmers on board, Kakadoodle was able to offer a wider assortment of products to its customers, from eggs to grass-finished beef, local honey, milk, micro-greens, and much more. At the same time, they provided local farmers with access to new customers and additional sales.
Now operating exclusively in the Chicagoland area, Kakadoodle delivers a convenient online marketplace for people to get fresh, delicious food from local producers who treat their animals ethically. Plans are in the works to expand the offering to additional communities, with the ultimate goal of nationwide service. As for Marty, a mission that began with a search for fresh eggs years ago has become his life's passion and a testament to the power of making important changes, for yourself and for others.